the region's most exclusive fitness studio
Welcome to our luxurious, limited member studio, located on the Abu Dhabi waterfront
Our Abu Dhabi facility is designed and purpose built to deliver the VIP experience, giving you comfortable privacy and full attention from our elite team of trainers during every single session. We will offer you the best path to your health and fitness goals, supporting you through every step of the journey.
Our membership model limits the number of clients training at the same time, providing you with plenty of personal space and privacy. Our studios boast state-of-the-art equipment and technology designed to enhance our clients' experience, framed by panoramic sea views.
Capital Fitness is the region's first truly boutique fitness destination.
How do I get started?
We believe that personal training is the best way to achieve long-lasting results in a safe and sustainable manner. We have put together a 30-day starter package for our clients to make it very easy to start the fitness journey.
Express 30 day PT + starter pack:
6 full PT+ sessions with an expert trainer
Medical-grade body composition analysis
Fitness consultation
100% tailored training and nutrition programmes
Full access to the Capital Fitness app
Access to your trainer between sessions through the app
Full studio access for a month
No commitment required
Valid for 30 days
We're not about unrealistic expectations, fads or pushing you beyond your limits.
At Capital Fitness, our world-class personal trainers use scientific methods to help you make measurable, long-term changes to your fitness and physique. We offer a range of training options and flexible scheduling, suited to both first-time exercisers and highly experienced sportspeople.
Our expertise includes:
Fat loss

Strength and conditioning

Toning and sculpting

Sports performance

Nutrition and supplement advice

Lifestyle guidance

Muscle building
Call/WhatsApp us on +971 50 862 5800 or come into our studio in Marina Village Studio B32 for a consultation.
Our diverse team includes some of the world's best personal trainers. We're united by our passion for empowering clients to achieve their goals.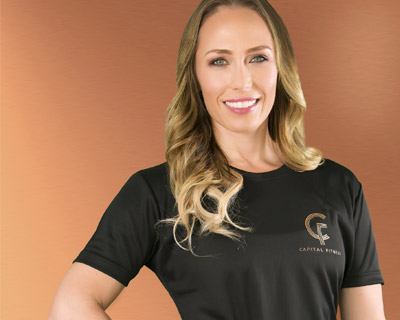 Hi! I'm Erin Egelhoff, and I've recently moved from Ohio in the USA to join Capital Fitness here in Abu Dhabi.
In addition to over 10 years' elite coaching and training experience in the States, I'm a physique athlete and champion figure skater with many high-end qualifications in fitness and health (not to mention degrees in psychology and African studies!).
I provide personal training and nutrition / lifestyle advice to all kinds of clients. I'm hardworking and motivated, and I love bringing those qualities out in others as well.
Things are getting busy, but I've got session times available, so I'm looking forward to taking on more Abu Dhabi locals and expats who are keen to invest in their health and get smarter about fitness.  As someone who really appreciates a great environment to work out in, I'm also really excited to be sharing our amazing high-end studio with you all. Our outdoor courtyard workouts are really something special!
QUALIFICATIONS
BA, Ohio State University
MS Kinesiology Sports Conditioning
Exercise and Sport Psychology 2019
NSCA – CSCS
ACE – CPT
Precision Nutrition Pn1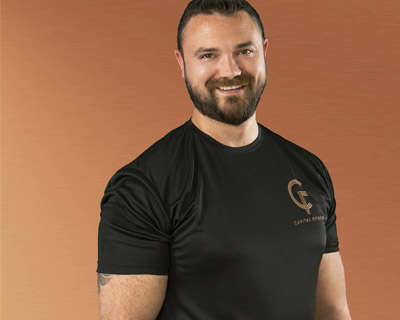 I'm a highly qualified and experienced personal trainer with a friendly, realistic and professional approach. Over the past 15 years as an advanced personal training consultant in London and across the south of England, I've helped many demanding and high-profile clients and businesses achieve the results they desire.
My priority is to expertly tailor every session to your individual and specific needs. I'll advise, motivate and support you in accomplishing your aims safely and efficiently, using the most up-to-date fitness training techniques available to drive you to success.
As well as being a health and fitness professional, I'm also qualified as an exercise referral specialist and nutritionist. Using these additional skills, I've had the opportunity to support clients and patients referred from doctors and physiotherapists, aiming towards specialised goals involving rehab from injury and illness, and dealing with conditions such as chronic back pain and diabetes.
I believe a balanced and inclusive approach to nutrition is the best way to ensure success. Whether fat-loss or muscle-building is your goal, learning to eat in a way that is minimally disruptive to your lifestyle, but structured enough to achieve your desired results, is the key.
Whatever your objective, fitness level or experience, I can help you.
QUALIFICATIONS
Certified GP exercise referral specialist level 4
Nutrition for Weight Management and Common Clinical Conditions. Dip
Certified Advanced Fitness Professional level 3
Injury Prevention and Treatment level 3
Certified Strength and Conditioning Coach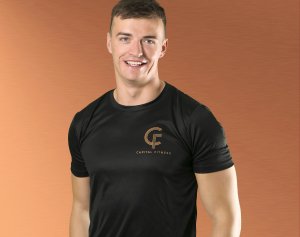 My name is Pauric Brazil and I have relocated from Ireland to Abu Dhabi to further my career as personal trainer at Capital Fitness.
I qualified with a BA in Exercise Health Science and Physiology and have been working with both private clients as well as highly skilled athletes and professional sports teams for many years.
My aim is to help each client achieve their goals in a safe and stimulating environment. I tailor every session to the needs of each individual and provide them with nutrition and lifestyle advice.
I love to work alongside clients to set programs that are centered around their own abilities and lifestyles, making their targets achievable and sustainable. I understand the barriers that people are faced with whilst training and dieting and I work hard to give support all the way.
QUALIFICATIONS
BA, Exercise Science and Physiology
Certified Advanced Personal Trainer Level 3
Accredited member of the Association for Health Promotion
Certificate in Health Intervention HSENP

MARK
I have had amazing success with the Capital Fitness VIP program, and couldn't recommend it more! Phil has helped me refine my approach to workouts, nutrition, and overall motivation. The result has been muscle gain, weight loss, and a significant tightening of my whole body, to the point that I think it's the best it has ever been. I can't recommend Capital Fitness more.
HEATHER SULLIVAN
AIM FILMS
Executive Producer
Phil has been my personal trainer for a year and a half now. The results I have achieved to date are largely due to Phil's perfect combination of diverse training methods, personalized exercise programs & challenging yet achievable goal setting. His professionalism, extensive knowledge and enthusiastic commitment to his work and ultimately his clients, provides the perfect scenario for success and sets foundations for a new healthier lifestyle!
With Individual one-on-one personal training, you'll create a unique dynamic with your trainer that focuses on one thing – your results. We'll customise programme duration, session frequency, and session times to your needs.
Contact us for a free consultation to learn more about what Capital Fitness can help you achieve.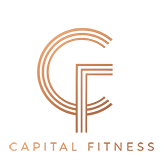 PREMIUM PERSONAL TRAINING. SUPPORTED BY SCIENCE.
Marina Village I Studio B32
Abu Dhabi – UAE
SUN – THURS: 6:00 AM – 10:00 PM
FRI & SAT: 9:00 AM – 5:00 PM